OceanWash Laundry Detergent Sheets
$13.00
Regular price
$19.00
inkl. MwSt. & kostenlosem
Versand
ab 15€
Order more with up to 59% discount :
Or save with every delivery with a laundry subscription :
---

Über 36.000+ glückliche Kunden

Secure purchase on account with Klarna

Fast delivery in 1-3 working days

100% vegan & biodegradable

1 pack = 1 kg less sea plastic

Dissatisfied? Money back!
---
Mehr als 12.632 Mal in den letzten 2 Monaten gekauft
Detergent Sheets?!

What is OceanWash?

OceanWash Laundry Detergent Sheets are a compact and more environmentally friendly alternative to traditional heavy-duty laundry detergents for clothes .

A pack of OceanWash contains 32 detergent sheets for 64 loads of 4.5 kg laundry with normal soiling.

What are the detergent sheets made of?

Our proprietary chemical formulation contains only ingredients that contribute to washing performance and detergent sheet strength . Each ingredient has been tested for environmental compatibility, water pollution and biodegradability . You can find more information about the composition in the safety data sheet .

What is the packaging made of?

We refrain from using plastic and pack our detergent sheets in recyclable paper envelopes . The paper comes from responsible sources . The paper envelopes are not only more sustainable , they are also much easier to transport than large plastic cans or boxes of liquid or powder detergent.

What makes OceanWash special?

For every pack of OceanWash detergent sheets sold , we remove 1kg of plastic waste from our oceans together with our partner rePurpose Global . So you are happy about freshly washed clothes and the sea creatures about a clean sea.
delivery times

Standard Shipping

The average delivery time in Germany is 1 to 3 working days .

To Austria this is an average of 2 to 5 working days .

express delivery

The average delivery time in Germany is 1 to 2 working days .

To Austria and Switzerland this is an average of 2 to 3 working days .

shipping processing

All orders are processed, packed and dispatched within 24 hours.
If a package is lost in transit, we will also send the order again within 24 hours.
Wash subscription?!

Why do I need a wash subscription?

At OceanWash you can decide for yourself whether you want to reorder manually or whether you want regular delivery. With the washing subscription you never have to worry about buying more detergent again because we take care of your regular deliveries. You have complete control and can skip, postpone, edit or cancel deliveries at any time according to your personal needs. The wash subscription can of course be canceled at any time after the first recurring delivery.

Delivery fees

The same delivery fees apply to the wash subscription as to individual deliveries: shipping is free for orders over €15.

That's why we recommend opting for the delivery of 2 packs at once with the washing subscription and adjusting the delivery rhythm accordingly.

If you would still prefer to receive just a single pack, you can use the discount code SHIPPING for free delivery on your first subscription order.

How do I manage my wash subscription?

After you have completed the order for your washing subscription, you will receive your access data from us in the form of a personal link for our subscription portal by email. You can easily manage your wash subscription there. For example, you can save the link as a favorite in your browser or store it on the home screen of your smartphone. Alternatively, you are welcome to contact us at any time and instruct us to make changes to your wash subscription.

Delivery rhythm

How often you want to receive supplies depends on your personal needs and how often you wash. As a guide, we recommend the following:
1 to 2 person household: Every 2 months
3 person household: Monthly
4 or more people/household with children: Every 2 weeks

The delivery rhythm of your wash subscription can be adjusted at any time.
Features & Application

Why OceanWash instead of conventional detergent?

Our detergent sheets are without :

- microplastics
- Dyes
- optical brighteners/ bleaches
- Plastic packaging
- Parabens/ phosphates

All ingredients are vegan, not tested on animals and easily biodegradable . The same goes for the packaging, of course.

For which textiles is OceanWash suitable?

OceanWash Detergent Sheets are suitable for garments of all colors . You can wash white, colored and black laundry without hesitation. Our detergent sheets can also be used for wool and silk, but we recommend gentler special detergents for this.

Is OceanWash suitable for hand washing?

Yes! Our detergent sheets are also ideal for hand washing , for example when travelling.

Simply dissolve half a sheet of detergent in 5L of water and your clothes will be wonderfully clean.
ingredients

≥30% anionic surfactants, enzymes (protease), fragrances (HEXYL CINNAMAL, BENZYL SALICYLATE, GERANIOL, BENZYL ALCOHOL)
⌀ Cost / laundry load

Costs per laundry load with 4.5 kg of laundry with a normal degree of soiling

When buying from

1 pack: €0.15
5 packs: €0.14
10 packs: €0.13
15 packs: €0.12
20 packs: €0.11
40 packs: €0.10

On average, one pack of OceanWash replaces three 1L cans of liquid detergent and a 3.5 - 5kg carton of powder detergent.

Einzelne Lieferung

Beim Kauf von

1 Packung: 0,17€
2 Packungen: 0,15€
4 Packungen: 0,147€
8 Packungen: 0,139€
10 Packungen: 0,13€
15 Packungen: 0,12€
20 Packungen: 0,11€
40 Packungen: 0,10€

Hinweise

Der Preis pro Wäscheladung ist mit allen anderen Waschmitteln in der EU vergleichbar, da die Maßeinheit "Wäscheladung" laut europäischer Detergentienverordnung auf Folgendes standardisiert ist:

4,5kg Textilien im trockenen Zustand bei normalem Verschmutzungsgrad und mittlerer Wasserhärte.

Eine Packung OceanWash ersetzt durchschnittlich drei 1L Kannen Flüssigwaschmittel und einen 3,5 - 5kg Karton mit Pulverwaschmittel.
Dein positiver Beitrag

1 Packung = 1kg Meeresplastik

Durch unsere Partnerschaft mit rePurpose Global finanzieren wir mit jeder verkauften Packung OceanWash die Bereinigung unserer Meere, Ozeane und Küsten um 1kg Plastikmüll. rePurpose Global hat ein globales System erschaffen, mit dem Plastikabfälle zunächst aus der Natur zurückgewonnen und anschließend verschiedenen Recycling-Kreisläufen zugeführt werden. Hierbei werden in den am meisten betroffenen Regionen Arbeitsplätze für Menschen ohne Perspektive geschaffen und die Plastikabfälle können nicht zurück in die Natur gelangen.

Wie funktioniert das?

Das Projekt, das wir hierbei unterstützen, findet in Chennai in Indien statt, einer Küstenstadt am Golf von Bengalen. Es heißt Neela Sapana, auf Deutsch "der blaue Traum". In den letzten Jahrzehnten wurden die unberührten Küsten und Meeresregionen rund um Chennai durch die sich ausbreitende Plastikverschmutzung verwüstet. Diese Verschmutzung schädigt die Tierwelt und verseucht ganze Wasserwege. Das Projekt Neela Sapana hat das Ziel geringwertigen Plastikmüll rund um Chennai aus dem Meer, von Stränden und aus Flüssen zu sammeln, um so den Golf von Bengalen zu schützen. Die gesammelten Plastikabfälle werden in Sortierstationen nach ihrer Qualität und Recyclingfähigkeit in 35 verschiedene Abfallarten sortiert. 

In der Sortierstation

Eine dieser Abfallarten enthält Weichspüler- und Flüssigwaschmittelflaschen aus Einweg-Plastik....
To ask?
In our extensive FAQs you will find answers to the most frequently asked questions. Alternatively, you are welcome to contact our customer service.
Your advantages with OceanWash

Effortless washing
OceanWash dissolves immediately in water and, thanks to its enzymatic formula, removes even stubborn stains from all textiles.

No fillers & no towing
We don't use unnecessary fillers, which is why a 64-load pack of OceanWash weighs just 165 grams and is smaller than an A4 envelope.

Stop wasting
Each detergent sheet has a divider line for easy dosing, so you can avoid wasting from overdosing.

100% plastic free
We pack the detergent sheets in an envelope made from responsibly sourced, recyclable cardboard and are completely plastic-free.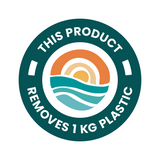 1kg less ocean bound plastic with every pack sold
OceanWash is the detergent that comes straight to your home and reduces ocean plastic. Because for every OceanWash pack sold, we remove 1kg of ocean bound plastic with our partner rePurpose Global.